UK Gun Repairs are the UK Agents for Nill Griffe Ergosign EvoComp Competition Shotgun Stocks
The features of the Ergosign EvoComp stock start with the anatomically designed glove type, pistol grip. This insures your hand is placed in the exact same spot with every shot ensuring your muscle memory is in synchronisation with your shotgun. The rest of the stock is infinitely adjustable in all directions e.g. Length of Pull (LoP), Drop at heel, Cast & Pitch making it possible to fit anyone.


The Benefits

Most stocks are either fixed comb or have an adjustable comb which allows only for changes to drop & cast at the comb. Any other changes require major effort, and can be time consuming. This may be OK for the few factory sponsored shooters, but for most it is an expensive cycle of trial and error that often results in a poorly fitted stock. Also, as time goes by, we tend to change physically as well as change our technique. All this requires changes to your stock. On purchasing and fitting your Ergosign EvoComp stock, the benefits are very quickly realised, for example: Other "retro-fitted" systems that are currently available generally are too heavy and upset the balance of the gun. The EvoComp stock system has been design to weigh similar to a standard fixed comb stock and they have a balancing system to allow you to adjust the stock for the perfect balance. At the recent 2010 World Championships in Munich, Richard Bognar from Hungry qualified for the Double Trap final – the first competitor to do so with a Modular Stock System. Since then, five out of the top ten Olympic double trap shooters in the world are now using the Ergosign EvoComp Stock. Over the next few years the majority of elite competitors will be using these stock systems in their search for the ultimate in GunFit.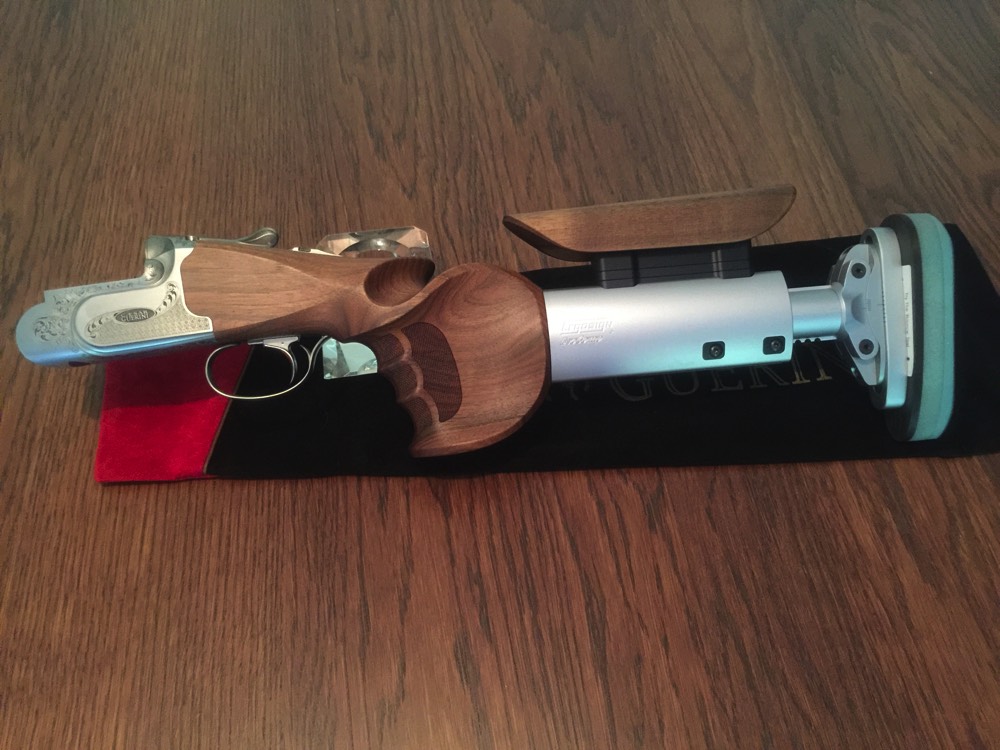 Pistol Grip
A fundamental difference from conventional stocks lies in the anatomical moulding of the pistol grip giving the stock a previously unknown degree of shooting comfort. Thanks to this ergonomic moulding, the light palm swell, finger grooves and a shaped horn for the back of the hand the hand always holds the same position, which positively effects recoil characteristics and leaves the trigger finger always in the same position relative to the trigger.
Fully Adjustable Comb
For a fast target acquisition it is of highest importance to find an ideal position to place the head. In order to do so the cheek will be continuous adjustable within 6 mm in height (drop) and 5 mm width (cast). Furthermore the cheek as well as it's carrier is offered in two different heights to ensure optimal head positioning.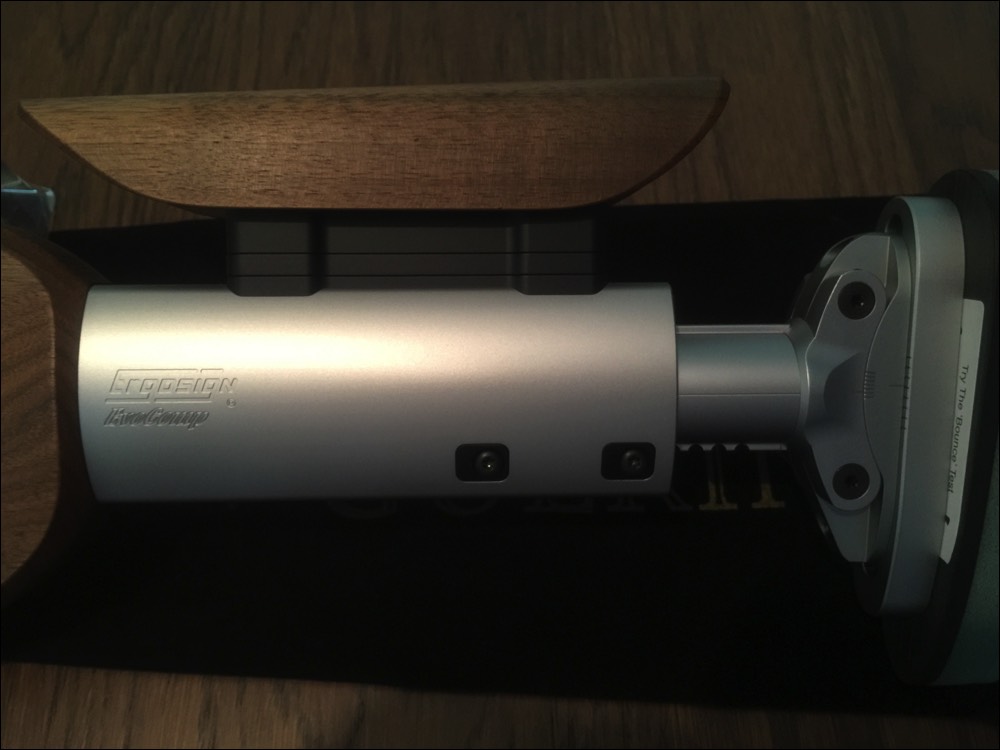 Stock Body with Length Adjustment
In order to maximise the control of the gun it is necessary to have the right stock length. The perfect length for the individual body size can be easily achieved as the stock offers an adjusting range from 340 to 390 mm. Additionally it is rotatable within+- 10 and in reference to a barrel length of 76 cm / 30 inches the pitch can be adjusted between 0-15cm.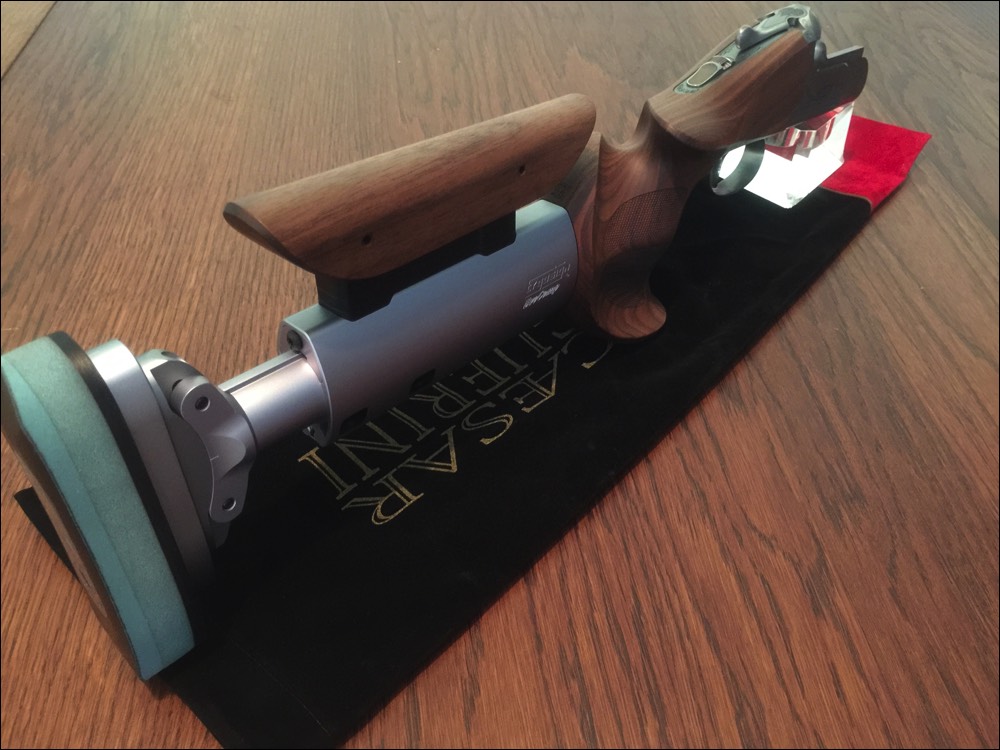 Fully Adjustable Butt Plate
One main advantage of the fully adjustable butt plate is the chance to adjust the height 20 mm, length and cast -4 to +8 mm. According to these attributes the stock affords the opportunity to make allowance for almost every anatomical circumstance.

UK Gun Repairs EvoComp Fitting Service

UK Gun Repairs customers can book a fitting session with one of our founding Partners, Dennis Stepney. One of our most experienced stockers, Dennis is also a keen Game shooter, competitive Clay shooter, and Clay shooting coach who enjoys a successful shooting career, making some notable achievements across multiple Clay Target disciplines that have included representing England. This wealth of shooting experience and gun smith knowledge will ensure that you return from your fitting session with the reassurance and confidence that your gun fits, and that you will be shooting where you are looking.

EvoComp Shooters win four medals during the London 2012 Olympic Games
25-year-old Peter R Wilson of Great Britain earned the gold medal in front of the home country shooting a 188 out of 200. He is now Britain's first shooting medalist since Richard Faulds won gold in the same event in Sydney 12 years ago. Sweden's Hakan Dahlby finished second while Russian Vasily Mosin won bronze after a shoot-off with Kuwaiti Fehaid Aldeehani.

During the World Cup in Tucson (USA) in 2012 the British shooter Peter R. Wilson reached a new world record in double trap with 198 from possible 200 hits. This result can be ranged as an "eternal world record" due to the changing in double trap regulations which have been stated in the meantime.
Thinking of Joining the Increasing List of Successful EvoComp Shooters?


We are receiving a positive feedback on these stocks on a weekly basis from our customers. If you would like to join the growing numbers of shooters who are raising their game with an EvoComp please call Dennis or Brian on 01823 650887.